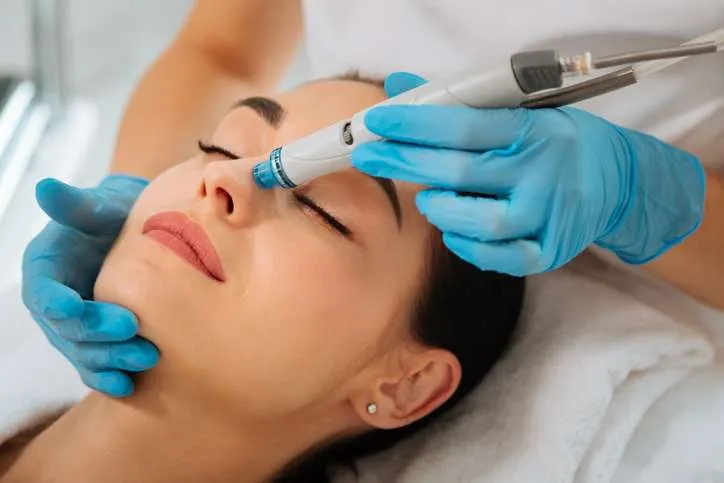 HydraFacial Treatment
Duration: 60 mins
€120
The HydraFacial is a facial treatment that uses patented technology to clear debris from pores, remove dead skin cells, and plump up the skin, giving you an instantly radiant complexion.
It's a three-step facial that will cleanse, extract, and hydrate, and it's customisable to suit your specific skin care concerns. The HydraFacial uses a medical grade suction device to remove dead skin cells, oil, bacteria, and debris from your pores, while also layering exfoliating, hydrating, and protective serums to drench your skin with the nutrients it needs.
The HydraFacial offers deep hydration to combat dryness that may be caused by ageing, pollution, or harsh weather conditions, and it removes any dead, dull skin that might be getting in the way of your glow.
Because this treatment offers instant results with no downtime, the HydraFacial is a popular choice for giving the skin a quick boost before weddings or other special occasions.
Book a HydraFacial Treatment Now
Preparation before your HydraFacial treatment begins:
Very little preparation is needed for this treatment. The HydraFacial is suitable for almost all skin types, even sensitive skin! However, you should avoid it if you suffer from rosacea, or if you have an active rash or sunburn.
Before your treatment begins, your aesthetician at Araya Beauty will discuss your specific skin concerns and customise the facial to your needs. The exfoliation process can be done at varying intensities, and the serums used can be customised to target specific skin concerns.
The HydraFacial follows a three step process that takes around 60 minutes to complete.
Cleanse & Peel:
First, an exfoliating serum containing glycolic acid and salicylic acid is applied to the skin. These hydroxy acids dissolve the bonds between dead skin cells, resulting in gentle exfoliation as the top layer of skin peels away to reveal a newer, fresher, more youthful layer.
Extract & Hydrate
Next, our qualified practitioner will use a suction device to gently extract dirt, oil, and dead skin from your pores. This device uses a patented vortex technology that extracts debris while also infusing your skin with a hydrating serum. The moisturising serums used in this stage contain peptides, antioxidants, and hyaluronic acid.
Fuse & Protect
To finish, a powerful antioxidant serum is generously applied to saturate the skin. Antioxidants offer your skin an added layer of protection against the elements, staving off free radical damage and brightening your skin tone. This final treatment layer can also be tailored to your skin type and concerns.
The HydraFacial process is not painful, although you'll feel the suction from the extraction in step 2, which is like a gentle vacuum on your skin.
The glowing, dewy effects of the HydraFacial last around a week, so it's the perfect facial to get before a big event. This treatment can also be used to tackle skin concerns like pigmentation, brown spots, and wrinkles, for which we recommend one treatment per month.
The best thing about a HydraFacial is that it offers similar results to a chemical peel or a microdermabrasion treatment, while also being totally pain-free and requiring zero downtime. It's a non-irritating, hydrating, glow-giving procedure that allows you to be in and out of the clinic within the hour.
The results include:
Improved skin tone – say hello to a radiant skin tone and a gratifying glow
Better skin texture – your skin will be hydrated, smooth, and soft
Younger-looking skin – exfoliation removes the dead, dull skin at the surface and reveals a newer, fresher layer
Reduced imperfections – the extraction process clears dirt and debris from the pores, leaving you with fewer blackheads, whiteheads, pimples
Reduced pore size
Reduced pigmentation – a course of HydraFacial treatments can reduce the appearance of dark spots
Best of all, at Araya Beauty you are safe in the hands of qualified and compassionate practitioners who are dedicated to providing top quality treatments that enhance your well-being and beauty.